By Sonnie Sei
Staff Writer
Kirkman Group, Inc.
It is the end of January already! We all (somehow) survived the holiday season and the stress that goes along with planning, preparing and shopping all throughout December.  While the overwhelming tasks of the holidays have passed, it is time to get back to a daily or weekly routine, and back to preparing and getting a jump-start to those New Year Resolutions of a healthier lifestyle.
It is easy to get stuck in the same routine and meal planning system, especially if you have a picky eater or you or your child have sensitivities.  Use the recipes below to make your family's food wellness goals a reality and mix up the usual routine.  The recipes are free of common allergens, and are recipes the whole family will enjoy!
Try out these chickpea bites for a twist on the forever-popular chicken nugget.  They are quick and easy to make, and you can also freeze a batch for later!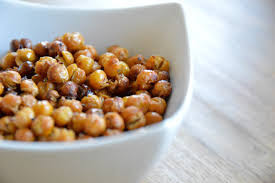 Chickpea Bites
INGREDIENTS
· 4-Cups of Chickpeas
· 2-Cups Chopped Broccoli (steamed)
· 1-Tsp Dijon Mustard
· ½-Tsp Onion Powder
· ½-Tsp Garlic Powder
· ½-Tsp Paprika
· ¼-Tsp Black Pepper
· 1½-Cups Chickpea "Panko" Crumbs*
DIRECTIONS
1. Before you begin, roast the chickpeas (without spices) and crush in a plastic bag. Spread them on a plate and set aside.
2. Preheat the oven to 425°F.
3. In a large food processor, process all ingredients (except the chickpea crumbs), until you get a "chunky" hummus-like texture.
4. Form about 18 nuggets (1-2 tablespoons each) with the batter and roll them in the chickpea crumbs.
5. Place the breaded nuggets on a parchment lined baking sheet and place in the oven to bake for 20 minutes. Flip and bake another 5 minutes.
6. Serve right away or freeze for later.
NOTES
*You can use premade chickpea crumbs or gluten-free panko.
Who doesn't love pizza night?  
Not only will you gain bonus points for making pizza for dinner, you can also sneak some extra veggies into your and your child's diet by making these cauliflower crust pizza bites.  Want to add a little extra? Try adding the recommended dosage of our Calcium with Vitamin D Powder – Unflavored – Hypoallergenic (0036-008).  It is essentially tasteless and can be easily incorporated into food or beverages.
Cauliflower Crust Pizza Bites
INGREDIENTS
· 1 large head cauliflower
· 2 large eggs
· 1-Cup shredded mozzarella, divided
· ¼-Cup freshly grated Parmesan
· 3-Tbsp. finely chopped fresh basil, divided
· 1-tbsp. garlic powder
· Kosher salt
· Freshly ground black pepper
· ½-Cup marinara
· ¼-Cup mini pepperoni, or your favorite pizza topping
DIRECTIONS
1. Preheat oven to 400°F.  Grate cauliflower on the small side of a box grater to form fine crumbs. Transfer to a large bowl.
2. Add eggs, 1/3-cup mozzarella, Parmesan, 2-tablespoons basil, and garlic powder to bowl and season with salt and pepper. Form into small patties (they will be wet) and place on a greased baking sheet. Bake until golden, 20 minutes.
3. Top each patty with a thin layer of marinara, a sprinkle of the remaining mozzarella cheese, and mini pepperoni or topping of choice and bake until cheese melts and pepperoni crisps, 5 to 7 minutes more.
4. Garnish with remaining basil and serve.
A Comfort Food Basic with Noodles
This winter, keep warm with tasty, toasty Chicken Zoodle Soup. The following recipe is a balanced, broth-based soup full of vegetables and includes options to add in supplements your family may be lacking. 
Savory Chicken ZOODLE Soup
INGREDIENTS
· 1-tablespoon olive oil 
· 1 large onion, chopped (2 cups)
· 2 medium carrots, sliced (1 cup)
· 3 medium celery stalks, sliced (1 cup)
· 1-teaspoon chopped fresh thyme leaves
· ½-teaspoon salt
· ¼-teaspoon ground black pepper
· 3 cloves garlic, finely chopped
· 64-oz chicken broth
An appropriate dose, as determined by your doctor, of B-Complex with CoEnzymes Pro-Support Powder
· 2-cups shredded chicken
· 2 medium zucchini, julienne peeled or spiralized, cut in 1-inch pieces (2 cups)
·  2-tablespoons chopped fresh Italian (flat-leaf) parsley
DIRECTIONS
1. In 5-quart Dutch oven, heat oil over medium-high heat. Add onion, carrots, celery, thyme, salt and pepper; cook 5 to 7 minutes or until vegetables soften. Stir in garlic; cook 1 minute longer.
2. Stir in broth. Heat to boiling over high heat. Stir in chicken and zucchini noodles; return to boiling. Reduce heat; simmer uncovered 10 to 12 minutes or until vegetables are tender. 
3. Top with parsley (optional) and enjoy!