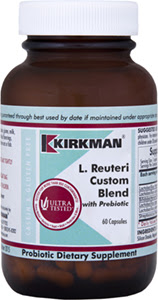 The probiotic, Lactobacillus Reuteri (L. Reuteri), has applications for various special needs conditions.   Our customers wanted a gluten free and casein free version of this popular probiotic, which we are pleased to report debuted in Kirkman®'s product line this month.
Kirkman's new Lactobacillus Reuteri Custom Blend with Prebiotic (#0541-060), contains 7 billion CFUs of L. reuteri, and one billion each of three other Lactobacillus strains (plantarum, acidophilus and rhamnosus), which are added to aid in adherence in the gut. A prebiotic fiber is also present to support the development of good gut flora by supplying a bioavailable food source for the organisms.
L. Reuteri is a probiotic strain that is known to support the immune system and dental health. Researchers have also found that L. reuteri plays a role in the gut-brain connection. The gut-brain connection has been established for years and postulates that the condition of the gut and presence of certain types of gut flora have an effect on neurodevelopmental behavior.