At Kirkman® we just completed our annual review of the products we sell. This happens at a meeting, usually lasting several days, at which our management discusses each, individual product that we manufacture and/or market. Kirkman® offers more than 350 products so it's that rare opportunity to get up close and personal with every product.
 One of the discussions we always have is identifying REALLY GREAT products that get overlooked by our customers. Obviously, we may need to explain these products more fully to you so that you understand their benefits.  So, here goes – our top five list of REALLY GREAT, overlooked products . . . Order them now and get 50% off as an introduction to these great supplements. Offer lasts through the month of June and while supplies last.
1. Bone Health Advanced Formula (#0498-120)
Supports bone and teeth health. Gluten and casein free. Capsules are plant based. Ultra Tested®.
Kirkman's Bone Health Advanced Formula incorporates the best ingredients to support bone and teeth health based on the latest scientific advances.
This formulation uses calcium and magnesium in forms that are particularly absorbable by the body. Two different forms of calcium (carbonate and citrate) are combined with two forms of magnesium (oxide and glycinate) to supply 300 mg of calcium and 150 mg of magnesium per the two capsules serving. Calcium and magnesium provide the foundation for strong bones and teeth.
In addition, vitamin D-3 and vitamin K have been added because these nutrients enhance the absorption of minerals and increase mineral density in the bone. Further, there is evidence in human intervention studies that vitamins K and D, a classic in bone metabolism, work synergistically to improve bone health. Boron is also included based on studies that indicate that boron improves body stores of calcium and magnesium and improves bone density. Boron accomplishes this by aiding the body's retention of these minerals and limiting their urinary excretion.
The normal daily serving is two capsules, however up to six capsules may be taken daily if recommended by a physician.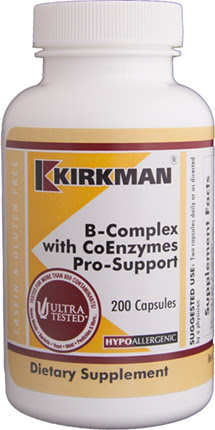 2. B-Complex with CoEnzymes Pro-Support Hypoallergenic Capsules (0095-200) or Powder (0499-007)
A proprietary blend that incorporates all eight of the B vitamins. Hypoallergenic. Gluten and casein free. Capsules are plant based. Ultra Tested®.
 Kirkman's B-Complex with CoEnzymes Pro-Support capsules contain significant doses of all eight B vitamins. This formulation includes the active form of vitamin B-6, pyridoxyl 5-phosphate, and the soluble form of vitamin B-2, riboflavin phosphate. Choline is also present for liver support. During times of stress, the body requires high amounts of the B-Complex vitamins.  Our B-Complex Pro-Support formulation is offered in hypoallergenic capsules or powder forms.
3. PQQ (Pyrroloquinoline Quinone) Hypoallergenic (0521-030)
Pyrroloquinoline Quinone (PQQ) is a micronutrient that provides powerful antioxidant activity for a strong defense against mitochondrial decay.
PQQ is a nutrient viewed as the latest advance in the area of mitochondrial bioenergetics. In 2010, researchers found that it not only protected mitochondria from oxidative damage but it also stimulated growth of fresh mitochondria.
 Scientists have also discovered that PQQ has extraordinary molecular stability that allows it to carry out thousands of electron transfers without undergoing molecular breakdown. In recent research, it has proven especially effective in neutralizing the ubiquitous superoxide and hydroxyl radicals, which may make it more efficient than other nutrients with antioxidant activity in sustaining mitochondrial energy production.
 Recent research also shows that PQQ is a potent growth factor in plants, bacteria and higher organisms. In animal research, subjects deprived of PQQ showed stunted growth, compromised immune systems, impaired reproductive capability and fewer mitochondria in their tissues.
 Kirkman® offers hypoallergenic PQQ in 20 mg vegetarian capsules.
4. Toxicity Control (0538-120)
Assists in removing toxins from the body. Free of common allergens. Gluten and casein free. Capsules are plant based. Ultra Tested®.
Toxicity Control is a product that supports the body's natural detoxifying pathways. These natural pathways are mechanisms for removing environmental contaminants, which can invade the body through air, water, contaminated food, contaminated dietary supplements or contaminated garments or jewelry. 
The product components include:  vitamin C, vitamin E and selenium which enhance the body's detoxification pathways; taurine, a sulfur based amino acid with detoxifying properties; modified citrus pectin which supports reduction in metal stores in the body; curcumin (turmeric), a spice with clinical detoxification studies; milk thistle, a flowering plant which detoxifies the body's organs; glutathione, the body's most powerful immune system supporter; N-Acetyl Cysteine, an ingredient known for strong antioxidant activity; calcium d-glucarate, which acts in a similar manner as natural fruits and vegetables, also known to support detoxification.
This product provides for normal, healthy environmental detoxification.
5. Thera Response – Hypoallergenic (0300-180)
A comprehensive multi-vitamin specially formulated for individuals who don't respond to high vitamin B-6/magnesium supplements. Hypoallergenic. Gluten and casein free. Capsules are plant based. Ultra Tested®.
Kirkman's Thera Response is a proprietary multi-vitamin specially formulated for individuals who do not respond to high vitamin B-6/magnesium supplements such as Kirkman's Super Nu-Thera® products but who need a comprehensive multi-vitamin.
Thera Response is an extremely comprehensive multi-vitamin formulation that incorporates ingredients that were selected based on physicians' reports regarding effectiveness. Nutrients in this formulation include: folinic acid; vitamin methyl B-12; trace minerals, such as selenium, chromium, molybdenum and iodine; vitamin A as acetate and beta carotene; buffered vitamin C and the mineral factor lithium.
Thera Response is a hypoallergenic product in vegetarian capsules, specially formulated for individuals with sensitivities.